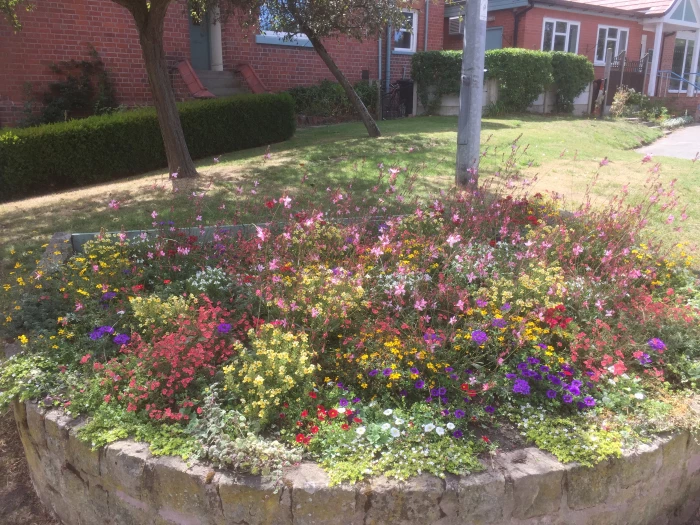 During 2019 and into 2020 ADAS plans were developed to enable the village planting schemes to become more sustainable along with plans to help improve the garden at the Public Hall flat and at the Doctor'surgery.
The need for improved sustainability means:
More permanent planting with reduced annual planting
Less watering
reduced use of compost
reduction in maintenance activities
In summary our plan reflects the needs of the village and sustainability drivers by:
create sensory planting scheme for the Lord Combermere beds that are normally planted with summer bedding plants – This is now nearing completion
create alpine flower bed at the village sign at Tollgate drive that are normally planted with summer bedding plants – work started but halted due to lockdown
Improve stone surround of the flower bed at the Woore road village sign to prevent weed encroachment – work started but halted due to lockdown
improve the planting in the St James church flower beds – Work commenced but has been restricted by lockdowns
use granite setts recovered from the aforementioned village sign beds to replace the wooden part of the millennium bed wall at the car park entrance – not started
change the planting at the front of the Methodist Chapel as many plant have died through salt contamination from the road – 5 new troughs have been installed which were jointly funded by ADAS and the Chapel
refurbish/landscape the garden of the Public Hall flat at request of the Public Hall committee who had been quoted £4,000 to do the work. They asked ADAS to help and we estimated that it may cost up to £200 to complete the required work with ADAS volunteers. – largely completed
We responded to suggestions that the garden at the Surgery needed tidying up as it had become overgrown with weeds. We completed the weeding work and one planting but this has now stopped as new building plans have been submitted by the Surgery which will impact this area.