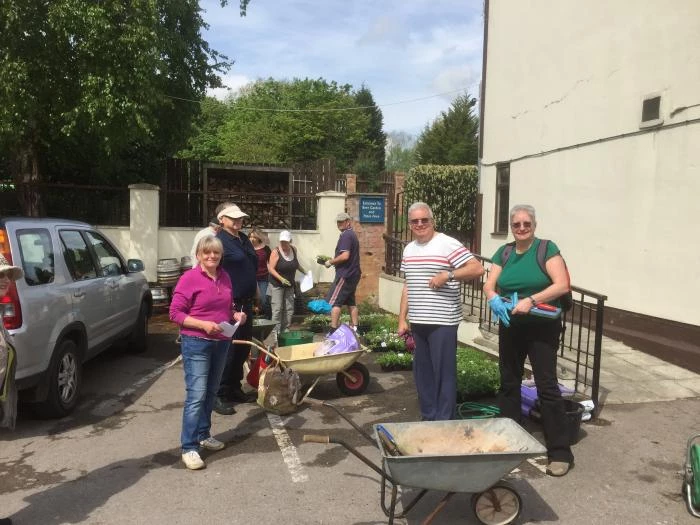 There are two main planting activities that ADAS perform in the village:
June planting – this entails taking out the winter and spring planting of bulbs and Pansies over two half days. All the work is done by volunteers from Audlem district and Audlem Cubs and Scouts.
October planting – this entails taking out the summer planting and replacing with Pansies and Polyanthus
During 2019 plans were developed to enable the village planting schemes to become more sustainable along with plans to help improve the garden at the Public Hall flat and at the Doctor'surgery. In summary this involves:
Create sensory planting scheme for the Lord Combermere beds that are normally planted with summer bedding plants – now completed
Create alpine flower bed at the village sign at Tollgate drive that are normally planted with summer bedding plants – completed
Improve stone surround of the flower bed at the Woore road village sign – completed
Use granite setts recovered from the aforementioned village sign beds to replace the wooden part of the millennium bed wall at the car park entrance – planned for early 2022
Change the planting at the front of the Methodist Chapel as many plant have died through salt contamination from the road – 5 new troughs installed paid for by the Methodist Chapel and ADAS
The Public Hall committee had been quoted £4,000 to refurbish/landscape the garden of the flat. They asked ADAS to help and we estimated that it may cost up to £200 to complete the required work with ADAS volunteers – completed
A major tidy-up and some planting was undertaken on the flower bed at the Doctor's surgery. However with the recent planning application for an extension, our work has stopped.
The planting in June 2021 involved removing winter/spring planting and planting over 1600 bedding plants and topping up compost and feeding the tubs and troughs. All the work was done by volunteers over three sessions. The spring bulbs are removed with some being planted around the village and some being given to residents.
In October summer plants are removed by volunteers over a weekend and the following weekend planting of the winter pansies and polyanthus takes place.
For further details see the Audlem in Bloom page.
If you would like to volunteer for the October or May planting please contact ADAS on adascontact@gmail.com or contact a committee member.